A new statement from Amnesty International is calling on the US-led coalition to conduct further investigations into the civilian deaths caused in their course of their offensive against the ISIS capital city of Raqqa in 2017.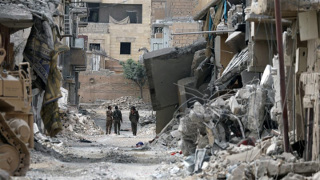 After consistently offering vast under-reports of civilian deaths in official reports, the coalition conceded last month that there were 78 more civilians killed in Raqqa who weren't reported. Amnesty says the evidence suggests this is just the "tip of the iceberg."
The Pentagon initially claimed only 32 civilians died in Raqqa. The addition of 78 more, mostly women and children, is likely still far lower than the actual figure. It is believed that several hundred civilians died in the offensive.
The Pentagon went out of its way not to track civilian deaths, and dismissed most of the large casualty incidents as "not credible. Amnesty said the reports are "woefully inadequate," and that the coalition can't avoid high civilian death tolls in the future without accounting for what happened in Raqqa.
Last 5 posts by Jason Ditz