Reports out of Egypt are suggesting that Hamas leadership has accepted a long-term ceasefire deal with Israel on the Gaza Strip. Israel is said to have sent officials to Qatar for talks on the matter, but whether Israel agrees or not is to be decided at a Sunday cabinet meeting.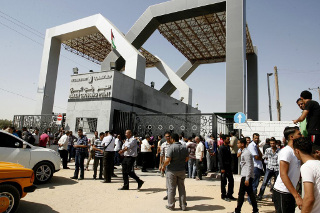 The deal is a multi-phased ceasefire intended to end with a 5-10 year ceasefire agreement, and negotiations to follow between the two sides. The deal starts with an immediate ceasefire in Gaza, including an end to incendiary kite and balloon flights, and border protests. In return, Israel would reopen the Kerem Shalom crossing, and Egypt would permanently open the Rafah crossing.
Following this immediate move, Hamas and Fatah would return to a reconciliation deal, with an eye toward elections in Gaza in the next six months. Finally, the long-term ceasefire would be put in place, with improved access to imports for Gazans.
Under the deal, Gaza residents would get access to a seaport and airport, albeit ones built in Egypt's Sinai Peninsula. Another power plant dedicated to providing electricity to Gaza would also be built in Sinai.
A potential stumbling block is the return of the bodies of slain Israeli troops, as the deal suggests this would be a topic of discussion in future Hamas-Israel talks, but some Israeli officials are demanding this as a precondition to any deal.
The long-term ceasefire has been sought for years, and has been close in the past only to be derailed at the last moment by some minor issue. While it's not certain it will survive this time, there seems to be general optimism that this is the case.