Meeting with his Turkish counterpart on Friday, Secretary of State Mike Pompeo declared that "the clock had run out" on Turkey to meet US demands to release an American pastor detained since 2016. He says Turkey is now "on notice."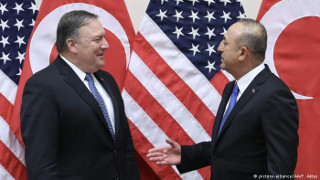 Brunson, like a lot of people, was arrested after the failed coup d'etat in Turkey, and the government has accused him of having ties to banned cleric Fethullah Gulen. The US insists the claim is false, and insists Turkey must release him, and every other American currently held.
While Turkish FM Mevlut Cavusoglu had agreed to resolve the situation in a meeting with Pompeo, he also says that the threatening language and sanctions from the US won't get them anywhere.
Pompeo showed no sign that the sanctions would stop, however, saying this is "one of the many issues that we have with the Turks." He said the sanctions are meant to show Turkey that the US is "serious" about the issue.