Suicide bombers hit a Shi'ite mosque in the Afghan city of Gardez on Friday. The attack took place during weekly prayers, killing at least 39 worshipers. Scores of others are reported wounded, many in critical condition, so the toll is expected to rise.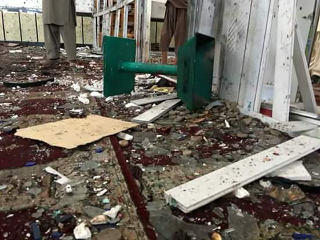 The attackers shot the few security guards outside Sahib-ul Zaman Mosque, and upon bursting inside started throwing hand grenades into the crowd. The attacks then detonated suicide vests, adding to the chaos.
This area is mostly Taliban territory, but the top Shi'ite cleric in the area, Sayed Sufi Gardezi, said he doubted the Taliban was responsible, noting that the Taliban has had a large presence in the area for a long time, and hasn't been threatening the Shi'ite minority. He suspected ISIS, which is also growing in the area.
Relatives of the victims of the bombing took to the streets soon after the attack, angrily protesting the lack of security for the mosque, given how often Shi'ites are targeted in Afghanistan. The situation turned violent, with some even attacking the paramedics trying to tend to the wounded.
Provincial officials offered little insight, beyond reporting what had happened. The Afghan central government's only statement so far came from the Interior Ministry, where they confirmed that the death toll is likely to rise further.