The Russian Ruble dropped Thursday to a near-term low after bipartisan US senators announced what they are calling a "bill from hell" round of new sanctions and restrictions targeting the Russian economy and leadership.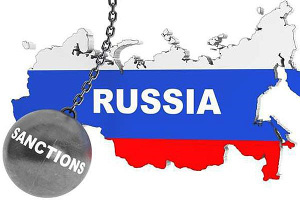 Sen. Lindsey Graham (R-SC), one of the leading proponents of the bill, said the massive present US sanctions against Russia have failed, saying that all of these new sanctions are needed to "punish" Russia.
As currently envisioned, the sanctions target a number of top Russian politicians and "oligarchs." The bill also aims to severely restrict Russia's ability to raise sovereign debt, and to restrict their ability to seek investment in energy projects.
There is no timeline for a vote on the bill yet, but reportedly some senators are also lining up to offer amendments adding yet more sanctions or other measures against Russia. This could go on for quite awhile, with almost the whole Senate looking to one-up each other on being anti-Russia these days, and could mean an actual vote won't happen.