Saudi warplanes carried out an attack on the fishing port and market in the Yemeni port city of Hodeidah on Thursday, killing at least 60 civilians and wounding scores of others. The death toll was confirmed by the local health office. Dozens of wounded are still at the site, trapped under rubble.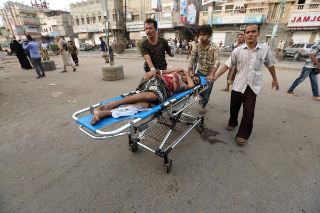 Saudi officials have denied involvement, claiming the Houthis attacked their own city. The Red Cross says that they are rushing equipment to al-Thawra Hospital, where 50 people are in critical condition following the attack, which hit the main gate of the fishing port.
The gate that was hit by the attack is just 20 meters from the hospital, which was convenient for getting the wounded treatment. It also, however, raised concerns that the hospital might've been targeted in the attack as well.
Saudi forces have been trying to capture Hodeidah since mid-June. The port is the sole source of aid for northern Yemen, and is believed to supply food for around 8.4 million Yemenis. The fall of the port would cut those millions off from food entirely, as Hodeidah is the last rebel-held port, and the Saudi-led forces have only allowed the other ports to supply "loyal" cities.