Addressing upcoming meetings in southeast Asia, US State Department spokeswoman Heather Nauert confirmed that North Korea's Kim Jong-un had already committed to full denuclearization during his June summit with President Trump.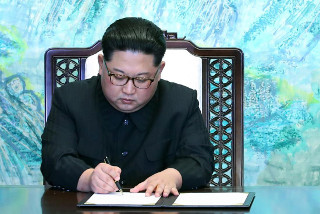 Nauert said that North Korean officials would be at some of the same meetings as State Department officials in the area. She did not rule out meetings, though she did say no interactions were specifically planned.
The focus, instead, will be on pushing for the ASEAN bloc nations in southeast Asia to agree to keep all sanctions against North Korea in place indefinitely. The US has repeatedly rejected international calls for sanctions relief on North Korea.
Another, unnamed State Department official was also quoted as saying that the US remains "concerned" by North Korea's attempts to acquire refined petroleum via ship-to-ship transfers. The US has tried to ban North Korea from getting any petroleum at all, but the UN has rejected such proposals.