With security continuing to deteriorate across Afghanistan, two more major attacks were reported on opposite sides of the country. At least 26 were killed in the two attacks, in Farah and Nangarhar Provinces, and scores of others were wounded.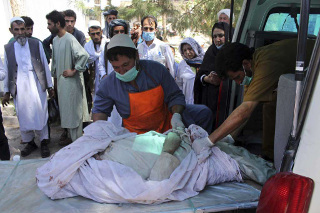 The larger of the two attacks saw ISIS forces attacking a refugee office in Jalalabad, the capital of Nangarhar. The two gunmen seized the building and had a six hour battle, ending with 15 killed, 15 wounded, and the gunmen also slain. This attack started with a suicide bomb outside, a distraction allowing the gunmen to take security by surprise.
The second attack, in Farah Province, was a roadside bombing. At least 11 people were killed and 31 wounded in the attack, which hit a bus. There were no claims of responsibility for that attack.
Farah, however, is more heavily Taliban territory, meaning they are more liable to have carried out this attack than ISIS would have been. Victims of the Farah strike were overwhelmingly civilians. In Nangarhar, an unknown number of police were also killed.