According to Hezbollah's media unit, the Syrian government and its allies are on the verge of finishing their southwestern offensive, and will soon have total control over the entire Golan Heights frontier with Israeli-occupied Golan.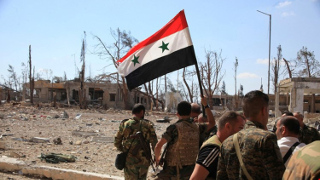 The last target in this protracted offensive was Khalid ibn al-Walid, an ISIS affiliate which controlled the Yarmouk Basin. Though all the major ISIS towns have already fallen, reports suggest they still control a few villages in the area.
The southwest, including the Deraa Province and parts of Quinietra, were dominated by rebels for much of the Syrian War, and were the last parts of the country's southern border to fall back under government control. At this point, the last real rebel strongholds are in the far north, near Turkey.
The Syrian government has provided no indications when they intend to launch an offensive against rebels in Idlib and Aleppo Province, but those last rebel territories are clearly going to eventually be on the radar, as the military looks to finish mopping up the Syrian War.