Pakistan election winner Imran Khan's victory is not only a major political swing from the previous vote, but also an historic change from generations of power being consolidated dynastically between a handful of figures.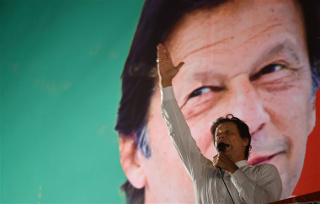 Repeated military coups and the subsequent juntas notwithstanding, Pakistan has been dominated by two major parties, the Pakistan Muslim League (PML), and the Pakistani People's Party (PPP) since the 1960s. Khan created the Pakistan Tehreek-e Insaf (PTI) in 1996, and it is now poised to form its own government.
Khan has positioned the PTI as an ideal alternative to the two existing major parties, campaigning on an anti-corruption, populist angle. He has promised to strengthen ties with traditional allies and to start negotiating long-standing issues with rival India.
Perhaps the biggest change, however, is that Khan says he wants to negotiate a deal for open borders with neighboring Afghanistan, saying it would help stabilize Afghanistan. Peace in Afghanistan, he noted, means peace in Pakistan.
The PTI won a plurality with 116 seats, with the PML-N finishing second at 64 sears, and the PPP getting just 39. A majority government will need 135 seats, and the PTI is expected to court independents and smaller regional parties to make up the difference.