On Tuesday, President Trump announced he is open to negotiations with Iran to make a "real deal." Iranian Foreign Ministry spokesman Bahram Qassemi rejected the proposal, saying Iran isn't interested in "one-sided" talks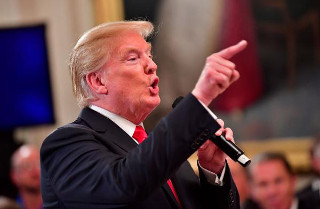 "America should forget forever the idea of one-sided negotiations under the shadow of a threat," Qassemi was quoted as saying in comments to Tasnim news agency. He noted Iran has also filed an official letter of objection to the US through the Swiss embassy, which handles communications between the two nations.
The letter of objection is centered on Secretary of State Mike Pompeo's speech on Sunday, in which he called Iran's leaders a "mafia," and called on Iranians living overseas to begin supporting anti-government protests in Tehran.
Trump's openness to negotiations came just days after he threatened Iran with "consequences the likes of which few have suffered" in history. While the administration is believed to be using the threats as an incentive to talk, Iran appears to be less interested in talks so long as they are predicated on the US threatening them.