New data from US Air Force Central Command once again confirms a trend of escalating US airstrikes against targets inside Afghanistan. The data shows 2,911 munitions have been dropped in Afghanistan so far in 2018.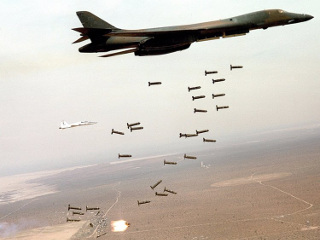 That's a lot. The 2,911 is not only a substantial increase from this time in 2017, but also would be higher than any other year since Central Command started keeping track of munitions dropped back in 2013.
This trend is unsurprising. US airstrikes were soaring in Syria and Iraq until late 2017, and have started to decline there in large measure as ISIS targets shrink. Instead of cutting strikes overall, Centcom is just shifting the focus to Afghanistan, where 17+ years into the war the Taliban still has vast amounts of territory to target.
All indications are that the escalation of strikes in Afghanistan is likely to continue, despite the Taliban controlling more territory now than at any time since 2001. Officials say that a strategy review may be upcoming, though they also say big changes are unlikely.