After another violent Friday along the Israel-Gaza border, a ceasefire brokered earlier this weekend has remained intact. While these ceasefires have been unfortunately short-lived recently, Israel is offering incentives if this one holds.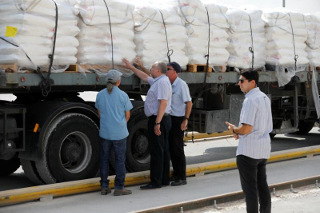 The Israeli Defense Ministry says that if the ceasefire holds through Tuesday, Israel is prepared to reopen the Kerem Shalom crossing, the main commercial crossing between Israel and Gaza. They would also allow Palestinians to fish out to 9 miles from shore.
Both the crossing and fishing rights were curbed by Israel earlier this month after a previous round of violence. The crossing has been closed since, except for minimal humanitarian shipments. Israeli DM Avigdor Lieberman says Saturday was the calmest day seen since late March.
The calm on the border centers heavily on Palestinians flying incendiary kites over the border, and Israeli forces attacking people they believe are planning to fly such kites. Egypt, which has been trying to broker a long-term ceasefire, has been urging Hamas to get the situation under control, warning as recently as Friday that Israel was within two hours of invading.