On Sunday, Israeli warplanes attacked a military post in the Syrian city of Misyaf, in Hama Province. Syrian state media confirmed the attack, the second time Israel has attacked this facility in the past year.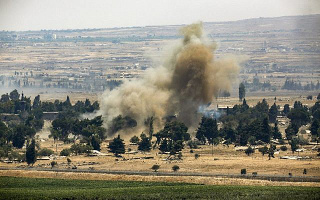 Details are still scant, and rebels are offering multiple conflicting reports on the site hit. Some claimed it was a chemical weapons research site, while others labeled it an Iranian logistics site, and claimed multiple Iranians were killed.
Syrian state media only called it a military post, and did not elaborate. They did, however, deny that there were any casualties, saying the strike was carried out from Lebanese air space, involved 10 missiles, and caused only material damage.
This is the latest in a growing series of Israeli airstrikes against Syrian targets in recent weeks. As with most of the previous attacks, the Israeli government refused to confirm the attack, or comment on it, saying they don't comment on foreign reports.