In comments to reporters on Tuesday, President Trump said that talks with North Korea are "going very, very well," but that there is no hurry on the denuclearization process. He said that there is "no time limit" on the process.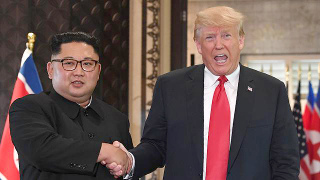 This isn't necessarily a change in policy, as the administration never put a specific deadline on denuclearization. It is, however, a change in narrative, as previously they'd suggested that it would be happening "very quickly."
Analysts have suggested full denuclearization is likely to take years, and Secretary of State Mike Pompeo had said the hope was to have substantial progress done by the end of Trump's first term in office. Other than a dubious claim by John Bolton of a one-year plan, there was never any talk of anything sooner.
Trump continues to express optimism about the progress with Kim Jong-un. The current strategy suggests that so long as negotiations are going well, and progress is being made, the US isn't going to suddenly bail on the program because of some sense that North Korea is too slow for their taste.