An upbeat President Trump declared "great progress" has been made in diplomacy with North Korea in new comments Thursday. Trump also released what he described as a "very nice note," which Kim had sent to him.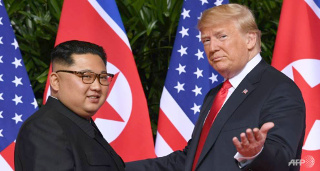 Kim's note praised Trump for his "energetic and extraordinary efforts" to improve bilateral relations, and expressed hope that both sides would take "practical actions" in the future to further improve the situation and usher in a "new future" for the two.
Exactly how much this really means is unclear, as the note and Trump's comments were both light on specifics of any new plans, and rather focused on big picture optimism. The note did make reference to implementing the joint statement from the Trump-Kim summit.
The letter was dated July 6, which means it would've been sent around the same time that Secretary of State Mike Pompeo's visit to Pyongyang went so poorly. The note may no mention of this, however, which suggests once again that the Pompeo visit was not the long-term stumbling block many had feared.