Following Saturday's North Korean criticism of his approach during his visit to Pyongyang, Secretary of State Mike Pompeo reiterated his position that there had been productive talks during the visit, and that there are challenging problems yet to be worked on in the ongoing process.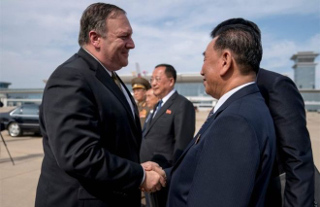 Pompeo defended his position during the talks with North Korea, saying if his demands were "gangster-like" then the whole world is a gangster. He further said he got no apparent push-back during the talks themselves.
Details are still very scant on the meetings themselves, which took place over two days. Pompeo insists there were no expressions of anger during the meeting, yet North Korea clearly had some serious problems with what took place, terming the whole visit "regrettable."
After a lot of very encouraging diplomatic meetings, this is the first one met with any sign of serious stumbling blocks. Whether this marks the beginning of the end for the diplomatic process, or is just another short-term hitch remains to be seen.