While most of the world is expressing quiet concern about Mike Pompeo's apparently failed visit to Pyongyang: or trying to figure out what happened, Japanese Premier Abe Shinzo appeared downright gleeful.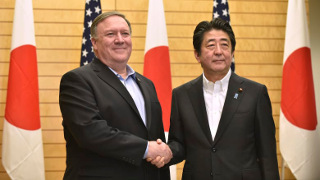 Abe, who met with Pompeo after the Pyongyang visit, said he wants "to pay my tribute to the strong leadership" of Pompeo, saying that his actions proved the "unwavering bond of the Japan-US alliance."
As North Korea has been making diplomatic progress region-wide over the past half year, Japan has been the odd man out. Though Abe expressed interest in talking to Kim Jong-un, North Korea has said they want nothing to do with Japan unless they end large-scale wargames and general military buildup.
It's not clear from the context of Abe's comments if he is pleased the North Korea talks have hit a rough patch, or if he just feels obliged to keep praising US officials going forward in an attack to try to maintain US support.