In an interview with the Guardian, Nigerien President Mahamidou Issoufou said that he does not want US or other foreign troops fighting on the ground in Niger, and that such troops should limit their actions to training and intelligence-gathering.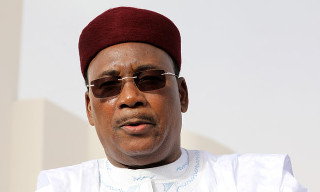 Issoufou discussed the ongoing war on terror in western Africa's Sahel, saying it will take years to finish, comparing it to the Syria and Iraq fight. He said foreign allies should do more to help the local militaries in the region fight for themselves.
The US has a substantial number of troops in Niger, a fact revealed after troops were ambushed last year and four were killed. The US also built a large drone base in Niger, despite substantial opposition within Niger to the US presence.
Islamist groups have been active in the Sahel for years. The US has mostly targeted the ISIS affiliate in the region, but there are also multiple al-Qaeda-linked factions operating there as well. Which is the most serious threat at any given time can often change rapidly.