With rebel territory shrinking all the time, the Syrian government has publicly called on refugees of the war, in excess of 5 million people, to begin returning home. They say the terrorists have mostly been expelled.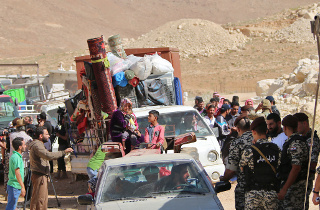 Looking at a map, this makes sense. The ISIS caliphate is gone. The rebels are expelled from metro Damascus, and almost all of the south. The rebels still have territory in Syria's southwest tip, and in Idlib and Aleppo Province, but that's virtually all.
Several years of bloody wars, and heavy shelling and airstrikes in major cities don't make returning home all that easy for many, however. The displaced are likely to find the homes damaged, ransacked, or destroyed outright.
UN officials described the destruction in Yarmouk, a refugee camp outside of Damascus that was already retaken as virtually unprecedented in scale in combat zones. That's a district for 160,000 refugees, but how many could safely occupy it now isn't clear at all.