A new Pentagon audit of the US troops stationed in Germany is raising eye-brows, coming just days after media reports of President Trump being interested in cutting troop levels in the country. Pentagon officials, however, say it is totally unrelated.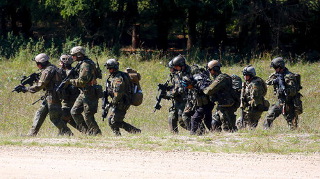 "We regularly review our posture and we perform cost-benefit analysis," insisted Pentagon spokesman Col. Rob Manning, who insisted that this is a "constant process" and not related to any potential planned pullout.
The earlier reports said President Trump was taken aback in recent meetings on learning that the US has 35,000 troops in Germany. This is the headquarters for US forces in Europe. It doesn't sit well with President Trump, however, especially with Germany spending far below US demands on their own military.
Though the Pentagon claims it is totally unrelated, the timing is impossible to ignore. With President Trump heading to a NATO summit next week, this audit is clearly going to be informing the other leaders in attendance.