In a ruling early Thursday, South Korea's Constitutional Court has ordered the creation of an alternative to military service for conscientious objectors. South Korea has long had a universal military draft, and has jailed draft resistors for three years.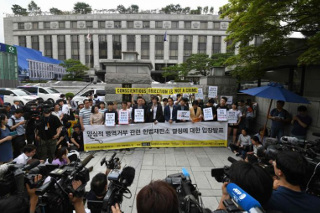 The South Korean Defense Ministry has since said that they will be providing such alternatives in the near future. They offered no details, but said they would assure that they could not be abused by people trying to get out of conscription.
South Korean officials have long justified the draft on the basis of the Korean War still being ongoing, since 1950. With a peace deal likely in the future, this is a big reason why there is a growing push to rethink mass conscription.
Yet this is only part of the reason. South Korean soccer fans are really driving much of the move, pushing the Defense Ministry to exempt star player Son Heung-min from military service. There was hope that a strong showing at the World Cup might net the whole South Korean national team exemptions, as it did in 2002, but having failed to make the knock-out round, Son is now facing military service in the prime of his career.
Alternative service is unlikely to allow the soccer star to avoid being drafted, but may offer future South Koreans something less dangerous and morally objectionable as an alternative. Either way, South Korea's government appears unwilling to consider doing away with the draft entirely, at least so far, and plans to keep forcing everyone to serve the state in some form going forward.