Syrian and Russian warplanes continued airstrikes against rebel-held areas in the southwestern Daraa Province, looking to soften up rebel defenses ahead of a planned offensive. Thursday was reportedly the deadliest day for civilians in those areas since the bombardment began over a week ago.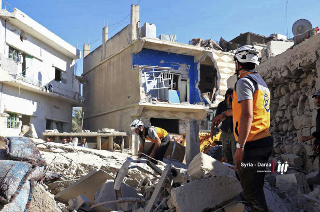 The deadliest of Thursday's attacks was in al-Musayfrah, where an airstrike hit a shelter full of civilians, killing at least 17 within. According to the Syrian Observatory for Human Rights, five children were among the slain.
With towns like Musayfrah likely to be attacked in the near future, large numbers of civilians are choosing to flee instead of hiding within. Over the past week, in excess of 50,000 civilians have fled, mostly toward the Jordanian border, where they hope to wait out the offensive.
Daraa is the top priority target for the Syrian government at the moment, as the last major rebel holding in the south. Once retaken, this effectively isolates the rebels into the far north, in Idlib and the northernmost parts of Aleppo, where Turkish forces have propped up rebels.