Russian officials confirmed on Wednesday that a deal has been reached on holding a summit between President Trump and President Putin. Though the two have met twice on the sideline of international events, this will be the first direct summit with the Russian leader of Trump's time in office.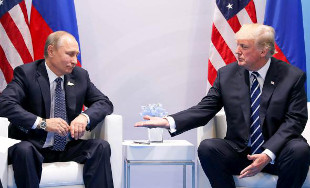 Officials have said a date and time are set, but what they are has yet to be made public. Reports have suggested it will take place "in the next few weeks," however, and will be in a third country, with Helsinki, Finland suggested as a probable location.
With allegations still swirling about Russian "meddling" in the 2016 election, President Trump has been very cautious with his diplomatic ties with Russian officials. This has meant that, despite substantial issues to be addressed, the US has much less engagement with Russia than in years past.
John Bolton, who was in Moscow negotiating this summit, says that President Trump will be raising a "full range of issues" during the summit. He downplayed the significance of the meeting, saying he didn't view the summit as anything unusual.
Which normally it wouldn't be. US and Russian presidents meet often. That Trump hasn't done so formally in the last 18 months is much more unusual, however, and the political circus still swirling around the election will  likely make the summit controversial, particularly for Trump's political opponents.