Key US allies in NATO, including some long-time advocates of President Trump, are expressing severe opposition to Wednesday's announcement of an upcoming summit between Trump and Russian President Vladimir Putin.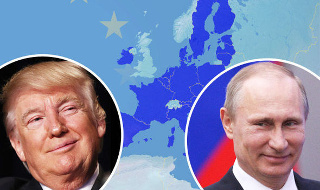 Polish Sen. Anna Maria Anders said everyone needs to be worried, saying that Putin is "extremely charming" and it would be impossible to predict how Trump would react to this. She expressed concern Putin would talk Trump into withdrawing from Poland.
Other European officials offered similar concerns that Trump might make "spontaneous promises" to Putin on myriad important issues. They said the worst-case scenario would be Trump embracing Putin after a tense meeting with NATO.
This has been a recurring issue since Trump took office. Trump's campaign talk of improving US-Russia ties was rejected by most other NATO members, and since then every hint of Trump meeting Putin or having talks with Russia has been followed by panic from those nations.
While it's unlikely a simple summit with Russia would lead to any shocking changes in bilateral ties, the opposition is chiefly about changing the status quo, with much of NATO very comfortable with remaining hostile toward Russia, and fearing even the illusion of rapprochement.