A number of top political figures have made clear they aren't comfortable with the North Korea diplomatic process. Today, the Senate is introducing bipartisan legislation looking to severely limit President Trump's ability to make a deal.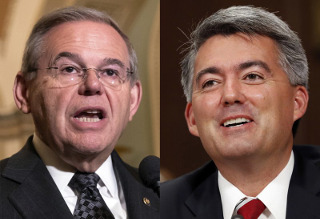 The bill, co-sponsored by Sens. Bob Menendez (D-NJ) and Cory Gardner (R-CO), would demand Trump present updates to the diplomatic process every 30 days. It would also forbid any sanctions relief without "meaningful and verifiable denuclearization."
The bill also refers to Kim Jong Un as a "ruthless and cruel despot." Menendez faulted the deal between Kim and Trump at the Singapore summit as too vague, and proving the need for "Congressional oversight" of the process.
In practice, the bill appears to be just the latest reaction to opposition among party leaders on both sides of the aisle to the peace process with North Korea. 68 years into the state of war on the Korea Peninsula, it's become a part of the comfortable status quo that many are loathe to see threatened.