Syrian state media has reported that Israel carried out a missile strike against an area near the Damascus Airport. Two missiles were fired by Israeli warplanes, hitting a building and causing an explosion and a fire.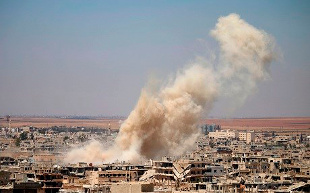 Details are still emerging, and it is unclear if there were any casualties. The Syrian Observatory for Human Rights, which confirmed the Israeli attack, said it hit a warehouse near the airport which belonged to "non-Syrian" allies of the Assad government. This led some to refer to it as an arms depot.
The Israeli government has declined comment, saying they would offer no statements based on "foreign reports." This is the first apparently confirmed Israeli strike on Syria since they made a deal with Russia on not attacking military targets during an offensive in the southwest.
Following the strikes, Russia's military issued a statement saying they consider the ceasefire in southwestern Syria to be over. Though it cited Syrian rebel attacks in the area, it is likely that it was timed to follow the Israeli strikes, as the US has tried to portray this fighting as Russia's fault, and is likely to be loathe to discuss the topic so soon after another Israeli attack.