The US has informed the rebel Free Syrian Army (FSA) that they do not intend to intervene militarily in southwestern Syria. The Syrian government has been expected to launch an offensive against rebels in the area soon.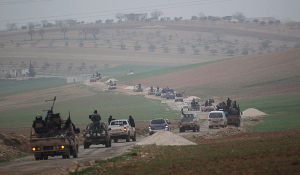 Though the rebel groups are fairly small in this area, they've long been backed by the US. US Ambassador Nikki Haley is still railing against the planned offensive, and saying everything that happens will be Russia's fault.
But they're also telling the FSA that their plans and decisions should not be based on any expectation of a US military intervention on their behalf. Syrian officials haven't said when a ground offensive will begin, but have launched airstrikes, backed by Russian warplanes.
The rebels around Daraa aren't waiting for the fight, however. On Saturday, al-Qaeda's Nusra Front launched an attack against the Syrian 9th Tank Battalion in the south. Five soldiers were killed and 19 wounded.
Expecting a massive fight and heavier airstrikes, thousands of civilians are already on the move, fleeing the areas that look to be the early parts of such a push. Some are going deeper into the rebel territory, but many are just fleeing to the Jordanian border, hoping to wait the fighting out in relative safety.