Afghan officials are reporting that a massive joint US-Afghan offensive against ISIS forces in Nangarhar Province has come to an end. The three-week offensive is estimated to have killed in excess of 160 suspected ISIS militants.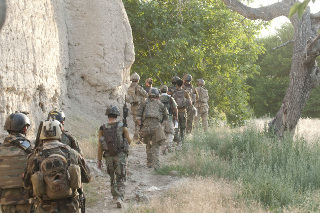 The offensive centered on the Gurgoray Valley, where US and Afghan troops managed to trap hundreds of ISIS fighters near the Pakistan border. Despite the excessive number of "suspects" killed, no US or Afghan casualties were reported.
Which isn't to say the operation had no cost. Local officials reported that the intense fighting displaced almost 2,000 civilians who lived in the area, and that after three weeks of battle, they are now just slowly starting to return home.
This is the latest in half a dozen occasions where Afghan forces have reported killed what they believe to be much of the ISIS force in Nangarhar. After each previous incident, ISIS returned in force as soon as it ended, and seemingly didn't skip a beat. Only time will tell if this offensive was any more meaningful, or if it just killed a bunch of suspects and displaced a lot of civilians.