Negotiators from North and South Korea agreed Friday to start a new round of family reunions for those Korean families who have relatives on both sides of the border. Separated by the Korean War, only small numbers have been able to participate in such reunions in the past.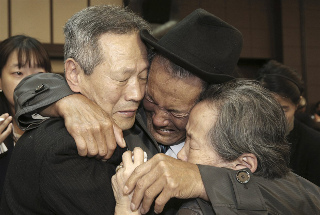 The Red Cross will be arranging the meetings. Hundreds of people from the two countries will be engaged in family reunions in late August, between 8/20 and 8/26. The reunions are to be held at Mount Kumgang, a North Korean tourist site.
Such reunions are a major issue for those families that have "long-lost" relatives on the opposite side of the border. These are particularly important for the elderly, who are still alive to remember the pre-war era.
An estimated 20 organized reunions have happened between 1985 and 2015. These tended to come during brief periods of diplomatic progress between the two sides, and then stopped when tensions picked back up.
There are high hopes this time around for the diplomatic track, with multiple successful summits, and serious talk of a peace treaty to end the Korean War. If that happens, these reunions may be the tip of the iceberg, and families may be able to meet whenever they want.