Citing diplomatic progress and the recent Trump-Kim summit, Japan has announced that they are halting evacuation drills related to potential North Korean missile attacks. North Korea has frozen its missile testing program, which likely makes the program unnecessary.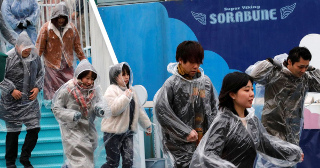 Since North Korea's missile testing in 2017 often involved long-range tests, with two missiles flying over the Japanese islands. The missiles didn't land anywhere near Japan, but there were concerns an errant missile might end up slamming into a populated area, or that in the event of a war North Korea might attack Japan outright.
Chief Cabinet Secretary Yoshihide Suga praised the progress made in the recent Trump-Kim summit, and urged North Korea to take concrete steps toward complete dismantlement of their nuclear program. He did note North Korea has promised to do so, and has also promised not to carry out any more tests.
Japanese Prime Minister Abe Shinzo has suggested openness to having his own summit with North Korea's Kim Jong-un. Kim has had successful summits with Trump, South Korea's Moon Jae-in, and China's Xi Jinpiang already, and a visit to Russia is also planned.