After months of threats, the Trump Administration announced Tuesday that they are withdrawing the United States from the UN Human Rights Council (UNHRC). Officials said the move was because the body is too often critical of Israel's human rights record.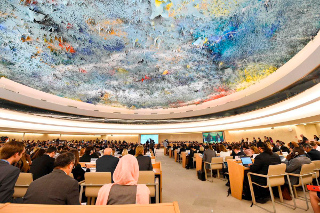 Israel has long agitated for the US to withdraw from the body, and ratchets that up every time the UN starts investigating a new round of killings in the occupied territories. The US has been talking up this move for awhile.
The outgoing UNHRC leader, Zeid Ra'ad al-Hussein said it was "disappointing, if not really surprising." He also said the "US should be stepping up, not stepping back." Zeid's last address to the forum as leader came Monday, during which he criticized the US over its treatment of undocumented migrants at the border.
That's probably not the direct reason for the US withdrawal, given how long they've threatened to do so. Distancing the US from UN bodies over Israel is a long-standing policy across several administrations, and was likely just a matter of timing.