South Korean officials familiar with the situation say that Secretary of State Mike Pompeo is looking to push ahead with denuclearization talks with North Korea "at a very fast pace." Foreign Minister Kang Kyung-hwa said Pompeo would meet with North Korean officials at the earliest possible time.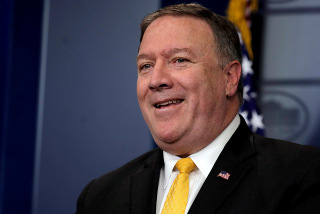 Pompeo said he wasn't sure if there would be a second Trump-Kim summit, but did say he'd be heading back to North Korea. He predicted he'd return to the country "before too terribly long," to work out details on the agreement made in Singapore.
Pompeo said there was a lot of work still to be done. He has visited North Korea twice already, once as CIA director, and then later as Secretary of State. He is the highest ranking US official to have ever visited North Korea.
North Korea has committed repeatedly in recent months to disarm their nuclear program. US officials say they are hoping to see progress toward that end within two and a half years. Pompeo has said no US sanctions relief will come to North Korea until full denuclearization.