Officials from the United Arab Emirates say that the Trump Administration has repeatedly rejected separate attempts to provide additional military help in the Saudi and UAE-led attack n the Yemeni port of Hodeidah.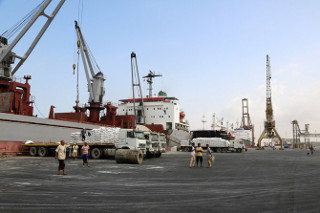 The Trump Administration spurned three different requests in just the past 24 hours, according to the report. These requests sought US military satellite imagery, US surveillance data, and minesweeping support. France has since said they will provide the minesweeping but only after the city is conquered.
The US has tried to insist they aren't providing any direct assistance in the Hodeidah offensive, though Pentagon officials previously confirmed that they would be helping with targeting selection for airstrikes against the city.
Hodeidah is a main humanitarian port in Yemen, responsible for feeding 8.4 million people. The Saudi and UAE-led forces are attacking the city to try to expel the rebels. This is the last rebel-held port, and the fall of Hodeidah would mean essentially no way to get food aid to the entire north of the country.