US officials say they believe they killed Pakistani Taliban (TTP) leader Mullah Fazlullah in a Wednesday drone strike along the Afghan border. If confirmed, Fazlullah would be the third TTP leader killed by the US.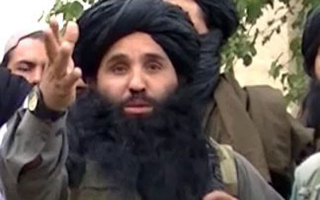 Unlike previous TTP leaders, who were high-profile tribal figures in Waziristan, Fazlullah was from the Swat Valley, and got his start as a high-ranking member of the Islamist group Tehreek-e Nifaz-e Shariat-e Muhammedi.(TNSM). He eventually allied with the TTP and eventually became the leader.
Fazlullah is also known as "Mullah Radio" because of his influential religious broadcasts. He is also accused of having been responsible for the shooing of female student Malala Yousafzai.
There are reasons to doubt Fazlullah was actually killed however. US officials say they don't have confirmation, and the TTP has said nothing. This is noteworthy as in the past the TTP has tended to confirm its leaders' deaths quickly.
Both previous TTP leaders, Baitullah Mehsud and Hakimullah Mehsud, were repeatedly reported killed by the US in attacks before finally being slain. Indeed, Hakimullah was reported slain as many as a dozen times, only to reemerge unharmed. He was finally killed in 2013, and Fazlullah took over.
Fazlullah is no stranger to this either, having been reported killed by the Pakistani military in March of 2015, again in a border operation. Fazlullah's tendency to operate on both sides of the Afghan-Pakistan border has made reliable intelligence on his whereabouts tough to come by.