Speaking Thursday in South Korea, Secretary of State Mike Pompeo rejected North Korea's claims on the denuclearization process. Pompeo says they will get no sanctions relief at all until they finish total denuclearization.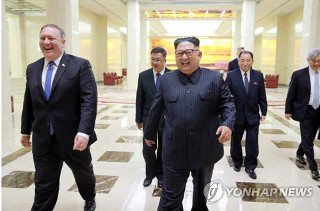 North Korea had suggested that the denuclearization would happen within a number of phases over the coming years, and that sanctions would start being lifted soon, themselves steadily continuing as progress was made.
Pompeo, however, was very clear that none of this sanctions relief would happen at all until North Korea finished the entire process. This is expected to take multiple years, with US officials saying they hoped for "major progress" in two and a half years.
Pompeo also tried to downplay President Trump's declaration that the nuclear threat is over, saying the US has its "eyes open" about the possibility this might not happen, and the US would withdraw its promises to North Korea.