Israel's parliament is expected to approve a bill that would formally ban reporting on Israeli military operations in the occupied West Bank, including distributing existing reports or photographs on social media, under threat of five-year prison terms.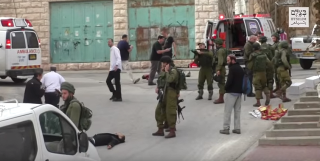 Advocates are arguing that reports on their actions to support the occupation "harm national security," and also hurt the "soldiers' spirit." The Israeli government has had multiple incidents in recent years where soldiers killing Palestinian civilians in the occupied territories have proven embarrassing.
Opponents say the bill is vaguely worded, and part of a worrying trend of the Israeli government trying to avoid reports of Israeli soldiers' misbehavior by punishing those who document Israeli actions within the occupied territories.
B'Tselem, an NGO that often documents West Bank operations, issued a statement saying that "if occupation embarrasses the government then it should take steps to end it," and that no "stupid bill" could stop them reporting on it.