During the course of Tuesday's summit in Singapore, President Trump and North Korea's Kim Jong-un each invited the other to visit their country. According to reports, both accepted the invitation of the other to visit.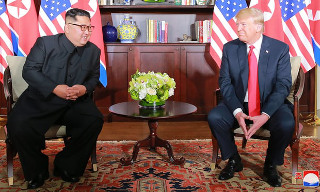 North Korean state media confirmed the invitations, saying they would be "another important occasion" for the improvement of the relationship between the US and North Korea. There is no date set for either visit.
Either visit would be unprecedented. Secretary of State Mike Pompeo is the highest ranking US official to ever visit Pyongyang, and no North Korean leader has ever visited Washington D.C. One of Kim's top aides did visit the White House last month, however.
Either visit also would've seemed impossible just a few months ago, with the two nations having their worst ties in generations. Months of substantial diplomacy, however, have made such visits entirely possible to propose, and to agree upon.