Speaking to reporters on Wednesday, Secretary of State Mike Pompeo said that there had been understandings reached with North Korea on in-depth verification of the denuclearization process, and a lot of other issues related to it, that weren't written explicitly in the official document shown to the public.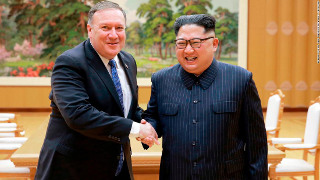 Pompeo also talked about the length of the disarmament process, saying the US wants to see major parts of the disarmament done in the next two or two and a half years. President Trump has long said he expected denuclearization to happen in phases.
The time-frame likely reflects US political realities, with the administration hoping that they can have major progress to show off to the voters during the 2020 presidential election. Pompeo added that Trump would restart the frozen wargames with South Korea if North Korea stopped showing good will in the process.
North Korea's Kim Jong-un had already committed to denclearization in conversations with multiple other officials before the Trump summit, including during summits with South Korea's Moon Jae-in and visits to China. Though the document signed with Trump didn't include a lot of details, the US and North Korea were said to be discussing the process long before the summit itself began.