Doctors Without Borders (MSF) has announced that they are suspending operations within northwestern Yemen Monday after Saudi warplanes attacked one of their medical sites. The attack badly damaged a cholera treatment center in the Abs region, in northern Saada Province.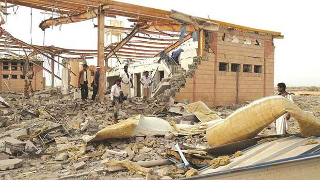 The Saudi war, and the Saudi-imposed naval blockade, fueled the worst cholera outbreak in human history in Yemen over the past year, with over a million infected. There were no patients at the Abs facility at the time of the attack.
Still, MSF says they have to suspend their operations out of concern for the safety of their staff, and will keep their operations frozen until they get assurances that medical facilities will not be deliberately targeted.
MSF mission head Joso Martins criticized the Saudi and UAE-led coalition, saying they show "complete disrespect for medical facilities and patients." The Saudis have yet to comment on their latest attack, which is just one of many strikes on medical sites in northern Yemen.