With Iraqi parliament's ordered recount at least somewhat derailed by a weekend fire at one of the ballot warehouses in Baghdad some officials are calling for a revote. A spokesman for PM Hayder Abadi, however, says only the Supreme Court can make that happen.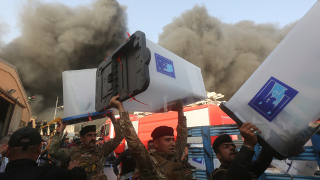 "This is a matter for the Federal Court and not for the executive branch," noted Saad al-Hadithi, when asked for Abadi's comments on the parliamentary speaker's demand to repeat the vote. It's not clear how the mechanism for such a re-run would work.
The May 12 election, after all, already happened, and results were published. Parliament called for recounts nationwide amid claims of violations. They also fired the entire election commission, though the commission is contesting that in court.
Iraqi officials who are likely to benefit from a re-vote are those pushing it the most heavily, and claiming the weekend fire is "deliberate" and proves the need for it. The parliament speaker calling for a re-vote, for instance, actually lost his seat, while Abadi's party was a distant third in the election.