The June 12 summit between President Trump and North Korea's Kim Jong Un was already going to be historic, with high hopes it would be a starting point for resolving some major, long-standing issues. President Trump now says it could also be the day the Korean War ends.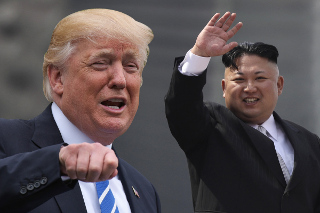 Though nothing is set in stone, Trump confirmed on Thursday that the US and North Korea have discussed the possibility, and that he and Kim may both sign an agreement to end the Korean War when they meet in Singapore.
The Korean War began in 1950, and an armistice was signed in 1953. No peace deal was ever reached, and North Korea's previous offers to talk about such a deal under prior administrations were rebuffed. North and South Korea have been talking about a peace deal for some time.
Trump had made clear he sees the summit as the start of a process, and the first round of talks. If it goes well, Trump says he may invite Kim to visit the White House in the future. This too would be a major historic accomplishment, though clearly peace and denuclearization are the top priorities.