The Pentagon is in the process of debating troop levels for US special forces in Africa. Though no decisions have been made, they look to substantially cut back the number of troops deployed around the continent.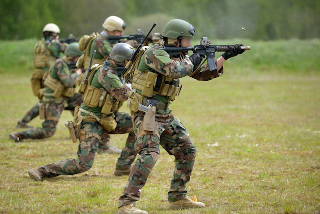 If the plan is approved, in the next three years special forces levels in Africa would go from the present level, around 1,200, to around 700. Some Pentagon officials are arguing that they would replace this with other military forces, while others argue that only special forces will do in America's many, many African conflicts.
That the debate is going on so publicly is particularly noteworthy, as there certainly was never such a debate for sending all those troops there in recent years in the first place. Indeed, the fact that US special forces are in a number of countries, like Niger, in such numbers is a fact that even Congress wasn't properly informed of.
Many in the Pentagon see a lot of these conflicts as so minor that they don't really require Congressional oversight, an increasingly common view for a lot of American wars. In many cases, the special forces are scattered in small numbers around various countries just waiting for something to happen.
That fact has drawn some criticism as well, with some officials seeing the forces are stretched far too thin in too many places around Africa. Again, the Niger fiasco looms large in this argument, with US troops getting killed in an ambush and having to rely on France to help evacuate them because they were in such a remote area.