Iraq's Independent High Electoral Commission (IHEC) was sacked by parliament on Wednesday, but a day later has filed an appeal in court to the decision, saying the changes to election law after the election violate the constitution.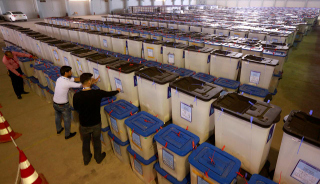 Parliament both fired the entire IHEC commission and ordered a full recount of all 11 million ballots cast in the May election. MPs cited reports of violation as proving the need for recounts. Most of the reports came out of Kirkuk, however, where a recount was already happening.
Prime Minister Hayder Abadi seemed to be driving the push for a recount, expressing serious concerns about the violations. Abadi did extremely poorly in the vote, coming in a distant third in the elections.
The plurality of the election was won by the party loyal to cleric Moqtada al-Sadr, while Badr Brigade head Hadi Amiri's pro-militia bloc finished second. Starting the talks on forming a coalition is going to be on hold, at least for now, until it's clear where the recount leaves everyone.