A US airstrike on Wednesday near Bani Walid, in northern Libya, destroyed a vehicle and killed four people. One of them was identified as Abdul-Ati Estewi, a member of ISIS. The other three victims are a matter of dispute.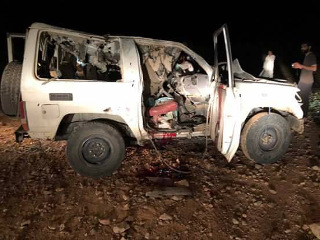 US African Command (AFRICOM) are claiming that all four were ISIS members, and that the strike was done in coordination with the unity government in Tripoli. Locals in Bani Walid, however, say that's not the case at all.
Instead of ISIS members, the locals say Estewi was traveling with three members of his own family at the time, all of them civilians, and that they'd gotten together for a Ramadan Iftar. AFRICOM has said nothing indicating they intend to investigate.
This has been a common issue in US air wars, that if even a single person in a group is identified as a militant, the entire group is assumed to be within that group. That a militant might spend time with his family is never even considered by the US, and accountability is unlikely.