With just one week left until the Singapore summit between President Trump and Kim Jong Un, National Security Adviser John Bolton is being carefully excluded from everything surrounding the event, including last week's visit by Kim Yong Chol.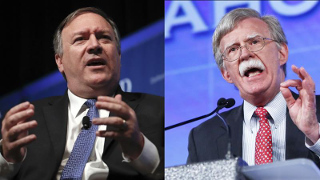 Bolton did serious harm to the effort last time he interjected. At the time Bolton suggested the "Libya model" was being used for North Korea disarmament. Since the Libya model ended up with NATO attacking Libya and Gadhafi killed, North Korea was understandably angry about it.
Secretary of State Mike Pompeo also wasn't too happy about it, confronted Bolton in an angry exchange, and the told President Trump that letting Bolton into the meeting with Kim Yong Chol would be "counter-productive." A long-time critic of diplomacy with North Korea, Bolton is seen by experts as trying to sabotage the summit, and Pompeo is said to seriously distrust Bolton's motives in those comments.
Keeping Bolton away from the proceedings at this point makes a lot of sense. Even if he didn't say anything else deliberately provocative, a tall order for him, his presence would doubtless irk North Korean leadership.
All of this is also leaving Pompeo and Bolton's relationship strained. That's not necessarily unusual, as the Trump Administration has often had high-profile officials at odds with one another. This could lead to recurring problems between the two whenever their respective agendas don't line up neatly with one another.