As Saudi-backed Yemeni forces continue to approach the key port city of Hodeidah, the lone source of food for millions of people in the rebel-held north, there are reportedly talks ongoing at the UN about avoiding the attack.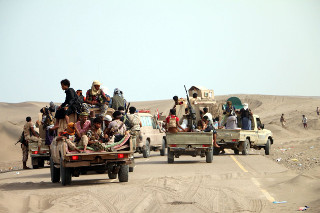 Martin Griffiths, the UN mediator for Yemen, says that there are talks ongoing with the rebel Houthis to place the port city directly under UN supervision. This would take the city off the battlefield, but leave it available to be used to import food and medical aid.
Since the Houthis are losing ground around the city, this may be their best bet for avoiding the mass starvation that would result from Hodeidah falling outright to the pro-Saudi forces. Other ports are only used to bring in supplies to the government-held south.
Houthi sources were quoted in the media as confirming that the talks are ongoing and the transfer is under consideration. The Saudi-led forces have yet to comment at all on the idea, and may object to a deal that denies them control over all food entering the country, and by extension who starves to death.