US officials have been quoted in the Wall Street Journal as saying they are considering direct US military involvement in the ongoing offensive against the north Yemen port of Houdeidah. The port is the lone source of humanitarian aid for Houthi-controlled northern Yemen, meaning it feeds millions of civilians.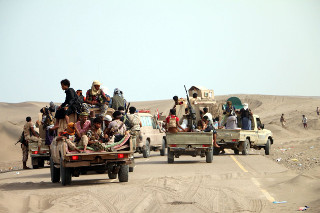 Pro-Saudi forces, including the United Arab Emirates, have been pushing toward Hodeidah in an ongoing offensive, with the idea that the fall of the port would be a decisive loss for the Houthi rebels. Human rights groups have been complaining for weeks that the fall of the port would start an immediate famine.
While the US has at times been critical of the Saudi-led naval blockade compounding these shortages, they've also willingly participated in the blockade with ships at times. UAE officials seem to bet that selling the Houthis as "Iran-backed" will get them US troops as well.
Whether it will work or not remains to be seen, but the Trump Administration has often given lip-service to the Saudi narrative that the Shi'ite Houthis are an "Iranian proxy," even though historically the Houthis have not had ties to Iran, and they follow a different version of Shi'a Islam.