North Korea's state media has published a statement from Kim Jong-un on Friday, saying the nation's desire to reach a denuclearization agreement is "unchanged, consistent, and fixed." The statement was issued in the follow-up to his Thursday meeting with Russian FM Sergey Lavrov.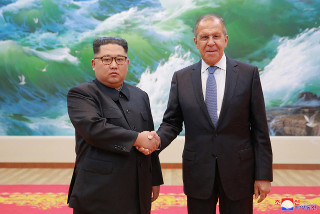 Kim's statement also expressed hope for a general improvement of US-North Korea relations, saying he believes that the denuclearization needs to be tackled on a "stage-by-stage" basis going forward.
Following the Lavrov meeting, Kim announced that he will be having a summit with Russian President Putin. The date for this summit has not been disclosed. On Friday, President Trump announced his own summit with Kim is back on for June 12.
North Korea has expressed support for denuclearization since the first Kim summit with South Korea's President Moon. Reaching such a deal is dependent on talks with the US coming up with some assurance that North Korea won't be attacked by the US after disarming.