High-profile talks between top North Korean and South Korean unification officials took place Friday in the truce village of Panmunjom. These talks were intended as a follow-up to the April summit between Kim Jong-un and President Moon Jae-in.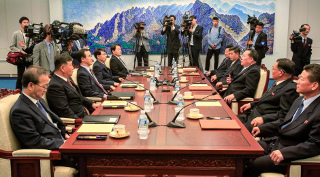 The talks set the stage for a series of additional meetings on more specific issues. On June 14, military talks are to take place between the two Koreas. Talks on sports exchanges will take place on the 18th. On the 22nd, there are talks planned to discuss allowing the reunification of families separated by the Korean War, which has been ongoing since 1950.
These are all issues which need to be addressed in the course of trying to resolve generations of hostility, with an eye toward an eventual peace treaty. The two have yet to agree on a joint statement, but progress is clearly being made.
North Korea's Ri Son Gwon mentioned that there remains a "source of mistrust" between the two sides but did not elaborate. He referred to it as a "very serious problem," and said it could be the difference between reconciliation and confrontation.